Seasons of Joy Autumn Curriculum!
Autumn Seasons of Joy
10 weeks off fall fun!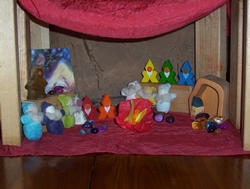 Autumn Curriculum: Gnomes, Seed Babies, and Leaf Fairies
Our second seasonal guidebook is ready, and it's even better than the first.
Look for gnomes with their treasures, tuck some seed babies in for the winter, and dance with the leaf fairies. Give your children 10 peaceful weeks filled with gentle, hands-on, Waldorf-inspired fun!
New features include:
* color nature table pictures
* many original verses, songs, and fingerplays as well as some traditional favorites
* music and stories written out for you
* patterns and drawings to assist you
AVAILABLE ONLY IN PDF FORMAT AT A NEW LOW PRICE
$15
Please allow up to 24 hours for your book to be delivered to you via email. Thank you!